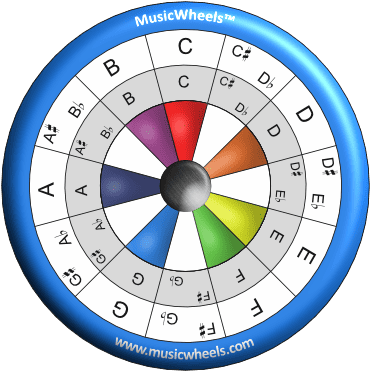 MusicWheels™
learn music the easy way

No prior musical knowledge required.

MusicWheels makes learning music theory straightforward and simple.
The traditional 'musical notes on lines' concept is a mystery to many.
MusicWheels is a revolutionary method for learning music based, not on the conventional musical notation and lines, but on simple colours and patterns mounted on concentric wheels in an easily used device.
The Hub is the central point to access free resources to help you
A powerful and engaging tool. As a guitar player of 13 years who has been through a variety of educational programmes, I can say that this is the easiest and most engaging way to learn the fundamentals of music theory. I would encourage all aspiring musicians to pick up a music wheel and unlock your musical potential.
M.H.
A brilliantly simple idea. Just turn the wheel and you can transpose, construct chords and even start to compose.
M.G.
Using MusicWheels will enable you to understand seemingly complex music theory – fast!. Its innovative design cuts through the haze and complexities of traditional music theory.
T.S.
It's so easy to see how chords and scales work. I was able to create my own chord progressions in minutes. Not only that, I can transpose a song from one key to any other in a couple of minutes.
R.A.
I thought I'd never be able to understand music and create my own songs but MusicWheels has changed all that, it's so easy to understand and use. It's in a handy size too, fits into my guitar case and is with me all the time.
K.H.
This remarkable gizmo has re-kindled guitar playing for me. I could play a few chords but never really understood how they worked together. It has connected so many dots for me that I am now able to create my own songs with relative ease.
A.B.
As a music teacher I find the book and wheel fascinating and will endeavour to introduce it to some of my pupils.
P.N.